Dec. 15, 2020
Teak has been a top choice for outdoor furniture for a very long time, makers and buyers are all over the world. It's often touted for its all-weather capabilities, strength, and beautiful grained finish. It was once heavily felled, but fortunately the deforestation of teak is now strictly controlled to ensure a continued and rejuvenated supply of wood. When you purchase teak furniture, you are making a wise and economical choice in many ways. So, what makes teak so popular for outdoor garden furniture?

1. Strong and Durable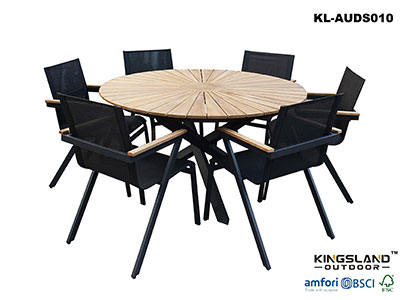 Teak is the most hardest wood and durable and strongest of the hardwoods, able to withstand extremes of heat and cold, makes it excellent wood for outdoor furniture. It's surface is very strong. You won't get any dings or dents in it. It's durability means that it is unlikely to suffer from rotting or many other afflictions that can attack other woods, making it the perfect material for outdoor furniture that lasts.
Further more, its strength is a real plus-point for outdoor furniture designers, which means that you have a wider range of choice in teak furniture than in many other woods.
2. Beautiful and Stays Beautiful
Outdoor garden furniture made from teak wood needs no paint or varnish, the colour and grain of teak makes it one of the most attractive to outdoor furniture makers and patio area owners. When exposed to the elements, teak changes color with age, new teak varies in color from light brown to dark brown, then teak naturally turns a silvery gray over time. In most cases, natural teak will become a completely gorgeous silver-grey colour in about a year or two. It depends upon the various climate conditions in your area. Whilst outdoor teak furniture can be left to the elements and become a wonderful silver-grey colour, teak used for indoor purposes is often oiled to retain its warm golden colour.
3. Weather and Pest Resistant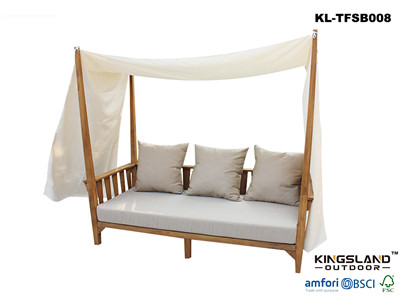 The resins and oils can not only protect against weather, but also serve as repellents against insects like termites and marine borers. By choosing outdoor furniture that made of teak, you won't need to worry about pests.
A remarkable feature of teak outdoor furniture is the ability to withstand all types of weather. It is one of the few woods in the world containing a natural oil which repels water, keeping it from warping, cracking or becoming brittle. Outdoor furniture made from teak are able to withstand the harsh effects of hard rains, severe winter snow storms and broiling sun without its strength diminishing. It doesn't have to be stored in the winter season.
4. Lasts A Lifetime with Low MAINTENANCE
With the wood's high oil content teak will fade to a beautiful even colored patina and will not look patchy or black. And you just need to clean at least once a year to remove dirt, dust and stains. This is something you can do yourself with a diluted household cleanser and a bristle brush. If your desire is to show off it's showroom luster, then apply a natural teak sealer from a marine store when needed. Purchasing outdoor furniture made from teak may mean you will be able to use it a lifetime.
5. Please Buy FSC-certified teak
Buying FSC certified teak is a good way to ensure that your furniture is environmentally friendly.
The FSC certification guarantees that:
- the wood from which the product is made is harvested from a sustainably managed forest or plantation and that the harvested tree is either replaced or allowed to regenerate
- parts of the forest are protected to provide habitat to wildlife and endangered species
- the local communities have the right to use the forest for resources
- the forest or plantation is managed by the local workers who are provided with proper training and equipment as well as paid decently for their work
- the timber is traced from the standing tree all the way to the store
By choosing FSC teak furniture, you will support sustainable forest management to promote biodiversity and protect the forests of future generations, help alleviate poverty, and contribute to the economic development of producers and your own country.